K-560 Truck Refrigeration Delivered to Namibia
Fernando from South Africa and he has a new refrigerated truck, which is 18 cubic meter and he use it to transport fish, so he needs a
truck refrigeration unit
to install on the truck.
According to his needs, the
truck refrigeration system
should work 6-8 hours per day, and also working at night when the truck parked, therefor he needs the AC backup function.
So we recommend him our
K-460 truck refrigeration
model,which is used for 13~18m³volume size or 4.2 meter length truck body to keep temperature range from -18℃ to +15℃.
But Fernando insist on that K-460 has two evaporator fan, and which is not enough for his truck, the ambient temperature in his city is very hot in summer. I explained that this
truck refrigeration
model is suitable for his truck enough because the fan is 2800m³/h, so the cooling capacity is big, we have tested that
K-460 truck refrigeration
even can reach -20℃.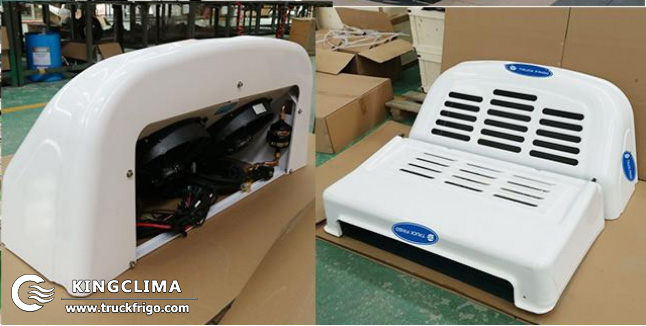 K-560 truck refrigeration
apply for medium or big trucks with 18~25m³truck body box or 5.2 meter length truck body, it is bigger than
K-460 truck refrigeration
model, and price is more higher than K-460.
The number of evaporator fans is not the only factor that determines the cooling effect of the truck refrigeration unit. The cooling effect is also related to the local ambient temperature, the thermal insulation performance of the car body, and the operating conditions of the customer.
We tested every
truck refrigeration units
before the unit leave the factory, therefore, our
truck refrigeration units
have undergone rigorous scientific testing, and the refrigeration effect is based on facts.
Finally Fernando choose
K-560 truck refrigeration system
for his business to transport fish. I think it is will be have a good feedback from him because of the large cooling capacity. Besides that, he equipped with an AC backup charger, when the refrigerated truck is parking at night, the
truck refrigeration
can connecting with an external power to rely on the power for working all day night.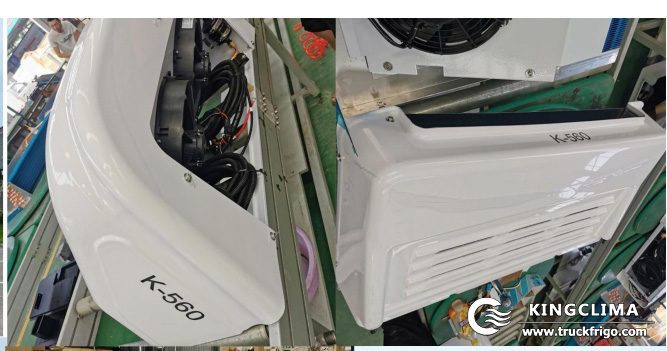 KingClima is professional in
truck refrigeration system
can meet different customized requirement with our various series transport refrigeration system. As for now, we don't have dealers much, but we welcome dealers join us. If you have the ability to resell transport refrigeration units and supply installation service for local customers, then you are the very right team we want to cooperate. If you also have interest for the
transport refrigeration units
and expand your business, we are the right team for you! Welcome contact us!