Whole Solution of Transport Refrigeration Units to South America Customers
Solutions to Build Refrigerated Trucks for South America Customers
Recently we helped our customer to build his refrigerated trucks with our
K-460 truck refrigeration unit
and 3.2x2.2x1.8m size of
refrigerated truck body
, which get our customer's highly appreciated by our service and products.
Chris owns a small chicken farm in South America. He has three trucks and plans to deliver frozen meat by himself this year. So consult us about
refrigerating truck boxes
and
box truck refrigeration unit
. According to the size of his truck, what we recommend to him is a 3.2x2.2x1.8 size refrigerated truck body and our K-460 truck refrigeration unit.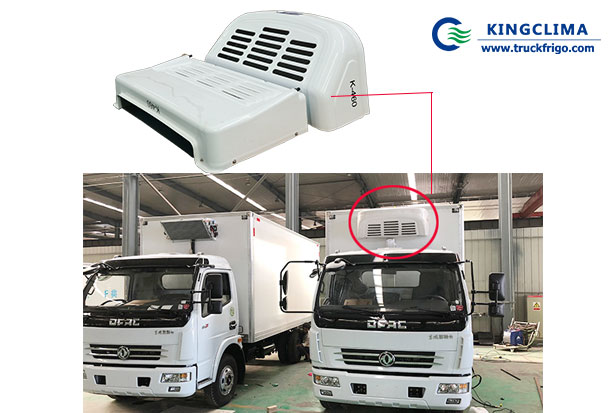 1)Structure: fiberglass+PU+fiberglass
2)The bottom floor is 100mm thick sandwitch panel; other panels are 80mm thick.
3) The Insulation Layer is a kind of new type foam - with virtually zero thermal conductivity. Density of the PU is all 42kg/m3, which meets the national AAA standard.
4) Both inside and outside the sandwitch panel is coated with Handmade FPR, which is 2mm thick.
5) The Hardwares are 304 stainless steel; Aluminum Profile and Stainless Wrap Angle.
6) The body and the Channel Steel Sub-frame are fixed together with high strength adhesive and screws.
7) Panels are made by high pressure vacuum technique of Germany
8)The refrigerated truck body is tight and solid; assembled by very high mechanical strength; smooth and nice appearance, anti-corrosion, shock-proof, standing wear and easy to be washed.
K-460 truck refrigeration units
are in split structure and driven by the vehicle engine. It is especially designed for the medium or big trucks with 15~20m³volume size or 5.2 meter length refrigerated truck body to keep temperature range from -18℃ to +15℃.
In order to help customers save shipping freight costs, we made two boxes into loose plates, and stuffed the
truck refrigeration units
into another molded box, which helped the customer save a lot of freight costs, and the customer was very satisfied with our solution.
Why Choose KingClima as your Partners and How to be KingClima Distributors?
KingClima is China largest
transport refrigeration units
supplier and we service the one-stop for customers to help them save time and choose the best high quality transport refrigeration units and refrigerated truck box. We not only support OEM service type but also support aftermarket cooperation type.
For some of special temperature controlled business demands, we also have some customized service products that is very outstanding and have a very competitive performance in the market, such as our portable refrigerated cold box and refrigerated tricycles. If you have any requirement of transport refrigeration demands, welcome contact us!