Electric Refrigeration Solutions with DC12V/24V/48V/60V/220v Voltage
KingClima is the leading
truck refrigeration unit manufacturers
in China with ove 20 years of exporting experience to export our
truck refrigeration units
and
van refrigeration units
all over the world. We always devoted to customers demand with best solutions. Nowadays with the electric freezer solutions demands increasingly from our customers, and here we provide the electric solutions for your temperature controlled solutions for reference.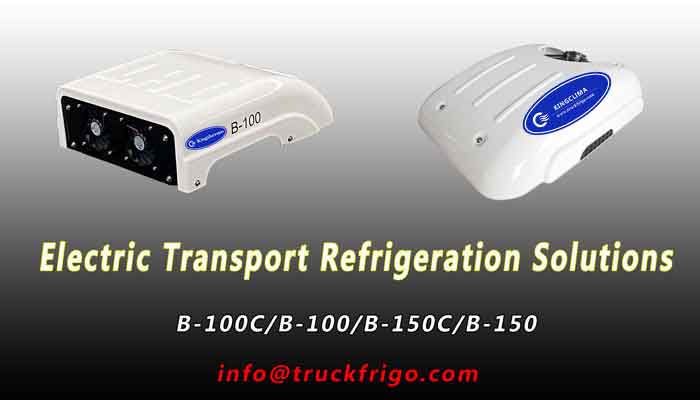 DC 12V/24V Voltage Van Refrigeration Units
Our
B-150C
/
B-150
is DC 12V 24V voltage, it is used for small cargo vans with 3-5m³ box size. It is used for -5℃ fresh delivery or -25℃ deep frozen delivery.
DC48V/60V Voltage Refrigeration Units for Electric Tricycles
Our
B-100C
/
B-100
is DC 48V/60V voltage refrigeration units for electric tricycles or other kinds of electric vehicles. It can be used for -5℃ fresh delivery or -25℃ deep frozen delivery.
Electric Standby Refrigeration Units 220V Voltage for Trucks
This is an optional choices for all kinds of truck refrigeration units. Like a storage battery, usually used for frequently loading and uploading cargoes to keep the cargoes refrigerated when truck engine is off. It is connect to outside 220V power source.
About KingClima Transport Refrigeration Units and Distributors are Invited
KingClima with over 20 years of experience in
transport refrigeration units
in China to provide dometic market for Dongfeng truck brands and we also export our truck refrigeration units and van refrigeration units to all over the world. For the overseas market, we warmly welcome distributors to join us and sell our transport refrigeration units in local market. We have the ability to produce enough temperature controlled units and also have our Research and Development Department(R&D) to produce the customized vehicle refrigeration units to suit to different market. We give our distributors a strong support to promote its market! Now welcome to contact us for more details.