Insulated Board For Refrigerated Truck Export to Singapore Customer
Our customer Mr. Hong owns a truck body factory in Thailand, helping customers install
refrigerated truck bodies
or
truck refrigeration for sale
in local market. and he is also our distributor in Thailand to resell KingClima
box truck reefer
or refrigerated truck box.
In his work, Hong often encounters customers who want to divide the
refrigerated truck box
into the freezing area and the fresh-keeping area, or separate the fresh-keeping and dry cargo boxes, so we have produced insulation panels that can separate the refrigerated compartments to meet customer needs.
During the communication with our customer Mr. Hong, we get many information of the customers demands and the truck bodies size. Mr. Hong is very professional in
box truck reefer
field so it is very easy to understand each other. That is a very happy cooperation time with KingClima teams, Mr. Hong feedback that. Finally the 5 sets of insulated board is ready well and going to deliver to Singapore. It will be soon arrived at his hands and we are waiting for his future test!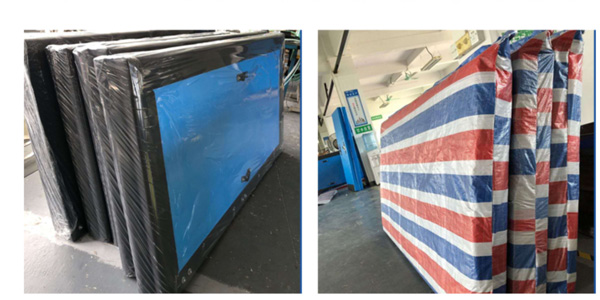 Insulation board
: The main function of the insulation board of a refrigerated vehicle is to isolate or control the air circulation and separate the compartment into different temperature zones. The insulation board is divided into ordinary insulation board and temperature control insulation board. The temperature control type partition is equipped with temperature control equipment and fans to realize the temperature control of the temperature zone.
The
thermal insulation board
is composed of thermal insulation layer, isolation layer and sealing layer. The thermal insulation layer is made of foamed soft sponge thermal insulation materials such as EVA or PVC.
The insulation board is composed of two pieces, and the two pieces of insulation board are independent or connected by loose leaves and hinges. The thickness of the board is 80-120mm, the weight is light, the toughness is strong, and it is closely connected with the car board.
Installation and fixation of thermal insulation board. When the thermal insulation board is installed, the friction force generated by the extrusion with the compartment board can make the partition board basically fixed. Combined with the internal structure of the carriage, the partitions can be reinforced with hinges, cassettes or aluminum alloy gear levers.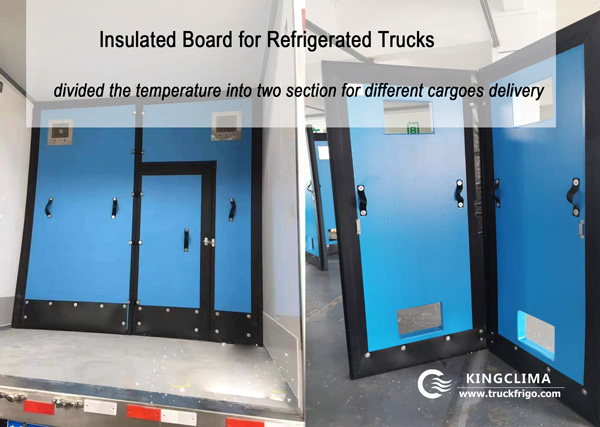 Cooperation With KingClima
As you see, our product line is very widespread but limit to the
transport refrigeration units
filed. From refrigeration to box, small cars to larger trailers, engine driven type to all electric types, there is always one or the other one product line that will suit your demands. Cooperation with KingClima way is not only to buy our products but also resell or being an official service center, all of the way are ok for us! If you have interest in any of the
box truck reefer units
,
van refrigeration units
or
refrigerated truck box
solution, welcome contact us!