K-2000 Diesel Refrigeration Unit for Truck Trailer Solution
Recently we helped our customers from USA to have this best solution of
diesel powered truck trailer refrigeration unit
exporting with standby system.
The
truck refrigeration units
electric standby system is AC380V/three phase 60HZ or AC220V one single phase.This semi trailer refrigeration unit has one independent 404D-22 Perkins engine,generator and BOCK 4TFRY compressor with big cooling capacity with fresh and freezer function .The lowest temperature can be -30℃ and Automatic defrosting (hot gas defrosting) and manual forced defrosting.
Kingclima can offer the independent
diesel semi-trailer reefer units
with electric standby system AC380V or AC460V ,three phase 60HZ .This
trailer refrigeration unit
has its own independent 404D-22 Perkins engine,generator and Bitzer 6TFRY compressor can make minimum Temperature Of Container: -30℃ and Cooling Capacity: 0℃/19900w -20℃/10900w
Because the Perkins compressor The emission standard is greater than 1L, so our American customers need us to remove the Perkins engine, and then the plan we give is to let the customer buy the Perkins engine locally in the United States, and then we give the customer installation instructions, so that the customer can receive the units according to our Installation instructions to install.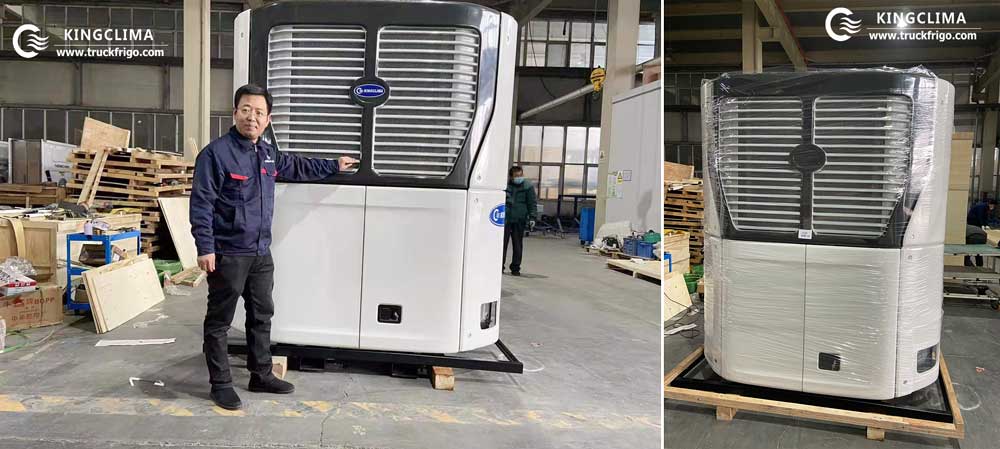 This is our USA customer ask the questions :
1). This
truck refrigeration unit
controller has a remote monitoring function in China, but it cannot be used abroad. Now there is no suitable solution;
2). There is no multi-loop temperature control for the time being;
3). DC14V generator specification: 105A
4). Engine specification: Perkins 404D-22; 35.7kW±5%/2600rpm
5). K-2000
box truck refrigeration unit
use BOCK FK40/655TK compressor;
K-2000E
truck refrigeration system
use Bitzer 6TFRY compressor;
K-2000 use mechanical expansion valve regulating valve;
K-2000E use electronic expansion valve regulating valve;
K-2000E has a larger cooling capacity than K-2000 unit;
K-2000E is our new design ,the shell of them are little different
6).We will send the detailed photos and instructions of removed engine to you after finish the production .
KingClima is China leading manufacturer and supplier of
truck refrigeration system
and
truck refrigerated box
. We can supply one-stop service for all kinds of your cold chain delivery demands. Besides that, we also welcome customers to be our distributors to resell in local areas, and that is the good way to cooperate with us. We also give some big supports to our partners. Please contact us for more details of this matter.