Van Refrigeration Unit Solution for Pure Electric Van on Singapore Market
Recently we make a good solution of
van refrigeration unit
for pure electric vans in Singapore market and get good feedback. Which now we have a deep cooperation with our Singapore partners as a dealer to represent KingClima
electric van refrigeration
.
How to choose the right refrigeration unit for pure electric VAN?
Before to recommend to suitable models of van refrigeration unit, we always need to confirm the following questions with our customers.
Questions :
What is the low voltage and high voltage of your electric van ?
What is the dimensions of your electric van cargo box ?
Do you need the battery driven refrigeration unit to be chiller or freezer ? What is the lowest minus temperature you need inside of van cargo box ?
Their Van is a pure electric EC31. The external dimensions of the carriage are 2.9*1.54*1.44MM, it has a refrigerated box of 6 cubic meters. This new energy pure electric VAN, we usually use directly
full electric refrigeration units
works from the high-voltage DC307V of electric van ,which equipped with our high-voltage Highly compressor or Boyang high-voltage electric compressor is the best choice.

However, according to customer request, if using directly the high-voltage battery of EC31 electric van when the reefer unit for van is working in foreign countries, it will affect the loss and service life of the pure electric vehicle. Therefore, to meet to this customer's demand, we have configured a low-voltage DC12V pure battery driven refrigeration unit for the electric van.

Our condenser of K-300ER
refrigeration for vans
is installed with a Highly 145 compressor. The condenser has one large fan, the evaporator have two evaporator blowers. Its cooling effect is very good, can be adjusted from -20 degrees Celsius to +15 degrees Celsius with chiller and freezer according to the needs of different goods.Such as vegetables, fruits, milk, cheese preservation, all kinds of frozen meat, seafood need to be frozen at -18 degrees Celsius.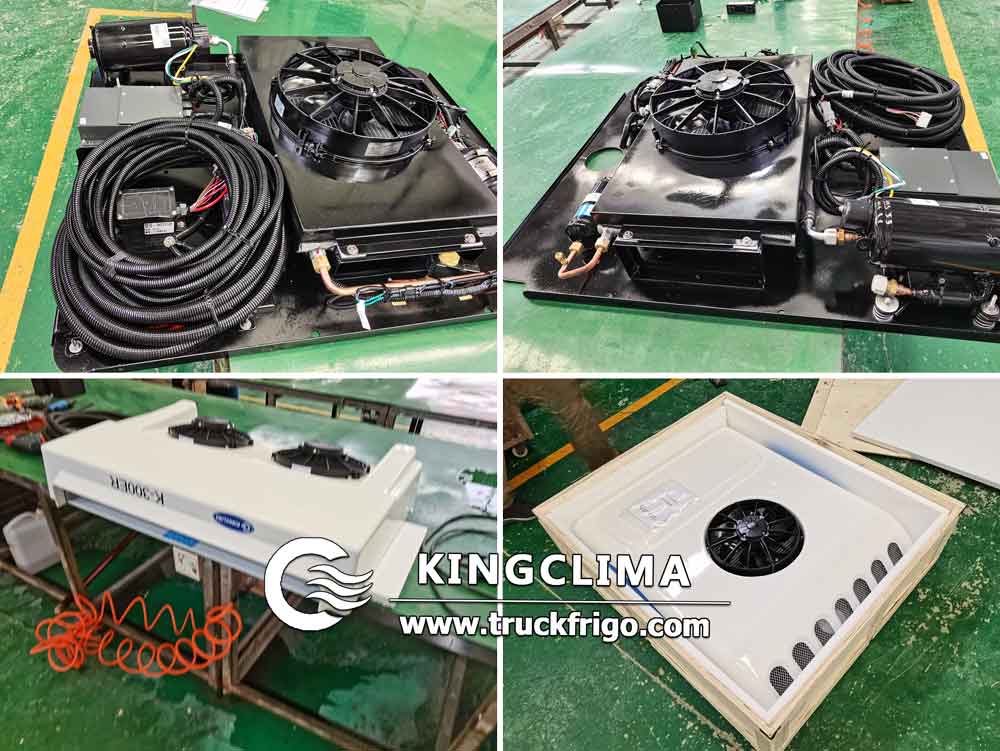 In addition, we are also equipped with a charger, so that when the tram stops, you can connect the local external power supply to charge the battery to ensure that the
van refrigeration unit
can continue to operate, so that the goods in the refrigerator box continue to be kept fresh or frozen.
Now the one set of K-300ER
all electric refrigeration units
have been packed well with wooden box and already arrived at our customers' hands for testing! The testing report is good! In a word, the K-300ER van refrigeration unit is a very good products apply on all electric vans cooling solution to deliver temperature controlled cargoes. Of course, if you have demands of
truck refrigeration unit all electric types
, you can find our K-400/500/600 models for different size of truck box.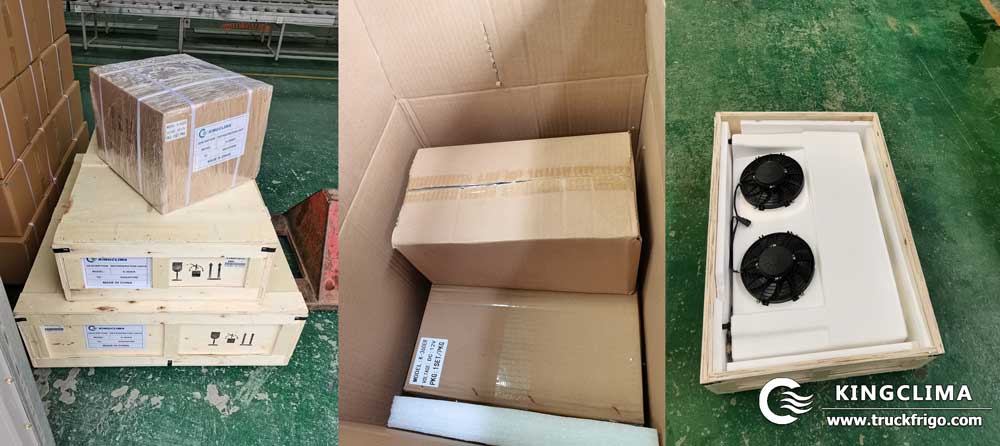 Our customer in Singapore is very sanctified with our
electric van refrigeration units
for their pure electric vans project. To have a deep cooperation, we already build a strong relationship with our partners to be as KingClima dealers in Singapore to represent our electric transport refrigeration units. He is very experienced in the pure electric van refrigeration convert in Singapore market.