V-300C Van Refrigeration Units for Sale to UK
V-300C is
rooftop van refrigeration units
, vehicle engine driven for large van box. Recently our customer from UK installed
V-300C refrigeration units for vans
and give our a good feedback on this.
Our customer from UK owns a small delivery food company, and there are 5 cargo vans used for express perishable cargoes, such as fresh meat and deep frozen seafood to the town market. In this case, our UK customer Mr.Allan ordered our V-300C delivery van refrigeration units for his cargo vans to transport fresh meat, so he only need temperature for 5℃ to keep meat safe.
Mr. Allan find the local installer to make
V-300C van refrigeration units
rooftop on the cargo vans, and all is well only take up 1 hour to install. Mr. Allan give
V-300C van refrigeration units
a good thumb for its fast cooling speed and better cooling performance.
We all know that the Thermo King and Carrier are the world famous
transport refrigeration units
brands and also take up the most of market share in UK market, and Mr. Allan feedback to us that KingClima van refrigeration units will be also have a good market in UK because of its high quality and low price, which are very helpful for the small business people.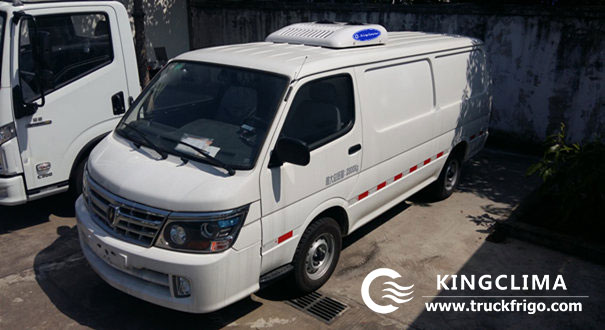 Distributors are Invited
KingClima brands are in the commercial vehicles refrigeration field for over 15 years and for the
all electric refrigeration units
also our advantageous products with the popular new energy commercial vehicles promotion in market, so we welcome distributors to join us and resell our products in local areas. We think it will be a great chance for this business! Please feel free contact us details.