Super 1000 is Replacement of Thermo King T-800R Export to Russia
Due to the influence of the Russian-Ukrainian war, many Russian customers reported that they could not buy the
trailer refrigeration
of Carrier and Thermo King from Europe. Recently, our Russian customer who is a distributor of Hwasung Thermo and Thermo King find us and want to buy our
truck refrigeration system
as a sample order to test it. The customer previously bought the
truck refrigeration unit
of Thermo King T-800R. Our
Super1000 stand-alone refrigeration unit
can reach 5185W when it is on the road, and the standby unit can reach 4485W at -20°C, which has the similar working performance as Thermo King T-800R. Please see the following table of comparative technical parameters:
Brand
Model
Refrigerant W(Road)
Cooling capacity W(ELectric standby)
Application(m3)
Condension
Air flow
Evaporator opening size
0℃/+30℃
-18℃/+30℃
0℃/+30℃
-18℃/+30℃
(mm)
(m³/h)
(mm)
Kingclima
Super1000
8250
5185
6820
4485
35-55
1825*860*630
2580
1245*350
Thermo king
T-800R
7800
4200
6000
3200
30-55
1887*919 *617
2700
Carrier
Supra 850
7810
6400
4910
4270
30-55
1823*856*629
2500
1245*350

Our SUPER1000
box truck reefer unit
evaporator and condenser are integrated, using the Perkins 403D-11 engine imported from the UK, the compressor is BOCK FK-490, the built-in separate generator, the backup voltage can be AC220V/AC380V three phase.
The Russian customer chose AC380V, which has a standard heating function, which can heat the temperature in the box to above +17℃. This heating function is essential for the very cold regions of Russia. The most important point is that the opening size of the evaporator of our SUPER1000 independent truck refrigeration unit is exactly the same as that of the CARRIER independent unit.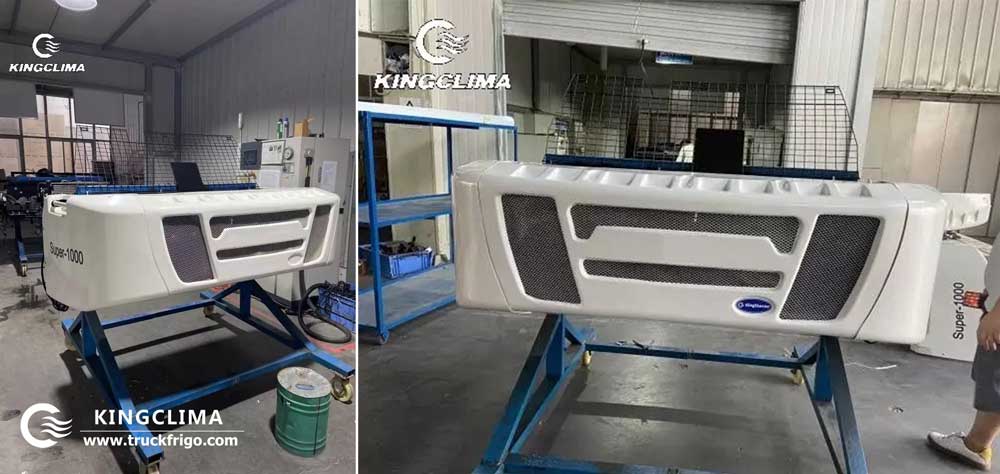 Therefore, if you are an agent of Carrier's diesel independent truck refrigeration unit or other brands of transport refrigeration units, you can completely replace it with our KINGCLIMA super series truck refrigeration unit or our other series vehicle refrigeration units. Under the same quality, our refrigeration capacity is larger, and our price is more advantageous in the market
Our Super series
independent box truck refrigeration units
are also sold to Dubai, Saudi Arabia and other high-temperature regions in the Middle East, and the larger cooling capacity has won the trust and praise of customers in the Middle East. So don't worry the quality, come to cooperate with us! We also welcome distributors to join us!