Solutions for Muti-temperature Electric Standby for Trailer Units
Kingclima
K-2000S Diesel semi trailer refrigeration unit
has electric standby system. and according to our customers demands for muti-temp or bi -temp, we helped to add some device to change it into
multi-temperature trailer units
with electric standby system. The electric standby reefer trailer is with AC380V/three phase 60HZ or AC220V three phase for choice.
This
semi trailer refrigeration unit
has one independent 404D-22 Perkins engine,generator and BOCK FK40/655TK 4TFRY compressor .
K-2100 new design
trailer refrigeration units
with 404D-22 Perkins engine and Bitzer 6TFRY compressor with big cooling capacity with fresh and freezer function .
Our trailer can be used 65-110 cubic meters 13.5m trailer body box.The lowest temperature can be -30℃ and Automatic defrosting (hot gas defrosting) and manual forced defrosting
Because of the original Carrier, Thermo king 's multi-temperature trailer units will be very expensive, so the solution we recommend to customers is that we provide the evaporator and other related accessories required by the
multi-temperature trailer refrigeration system
, as follows:
-Evaporator (K-560)
-Low pressure pipe joint (change to Multi temperature)
-Defrost pipe joint (changed to Multi temperature)
-Refrigeration pipe joint (change to Multi temperature)
-12V solenoid valve coil HM3-DC12V
-4S valve body (normally closed) 1078/4S
-Change dual temperature control box
-Change dual temperature control line
-Pass through
-Insulation clay
-Aluminum foil insulation cover
-Downspouts
-Downpipe tee Φ16 (universal)
-Downpipe Clamp 16-25
-Cable Tie Holder STM-2SB
-Rivet
-sealant
-large cable tie
-Lifting screws
-M10 Nut
-Flat pad
-Flat pad
-spring pad
-silver electrode
-The refrigerant
Then after the customer receives our
semi trailer refrigeration unit
and multi-temperature accessories, they can install it by themselves, which is very cost-effective.
Now the two sets of semi trailer refrigeration units have been finished produce. Our teams check it and packaged it with wood box ready to deliver it to port. We hope customers will like it! If you are looking for electric standby reefer trailer unit, please contact us!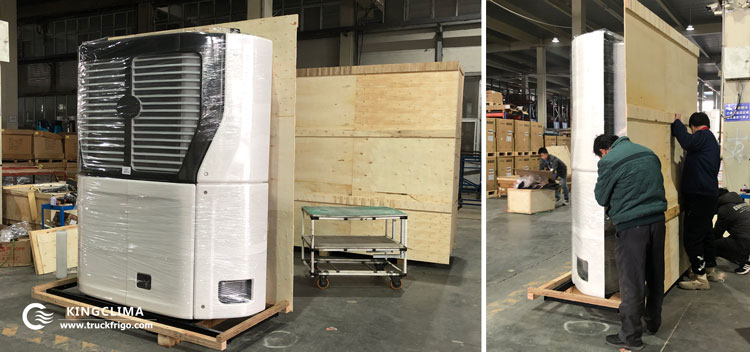 We know that
trailer refrigeration units for sale
in Thermo King and Carrier Transicold brands are very expensive. So to find a more economical way, many customers find KingClima and want a semi trailer refrigeration units as a replacement of Thermo King and Carrier Transicold. Our price is very competitive in the market, the quality is similar with the famous brands. We are factory and we can give a very good price to our customers! If you have interest in this, please feel free contact us.