K-680 Truck Refrigeration Export to Mexico
Our customer from Mexico has a small fruits factory and they transport the fresh apples to the downtown with a refrigerated trucks. Expanding the business and they order a new truck and want to install a
truck refrigeration system
for use. The truck is a isuzu truck chassis, which is very popular in Mexico market to be converted into refrigerated truck. For this Isuzu truck chassis, it is very easy and normal to see in our customers to use and according to the truck box size 25m³so we recommend to our K-680
truck refrigeration
for him.
Our customer find a local installers to help on installation of K-680
transport refrigeration
. It is not a problem for a professional team to install the transport refrigeration. So it only spend a little time to make it done. Our customer said that in Mexico, it is very hot in summer and sometimes ambient temperature can be reached to 40℃ which they really need a cold equipment for their truck to keep the fruits fresh and not go bad. The K-680
truck refrigeration system
is very suitable for their needs. Larger cooling capacity and beautiful look. It is a great experience to order transport refrigeration with KingClima teams, he said that.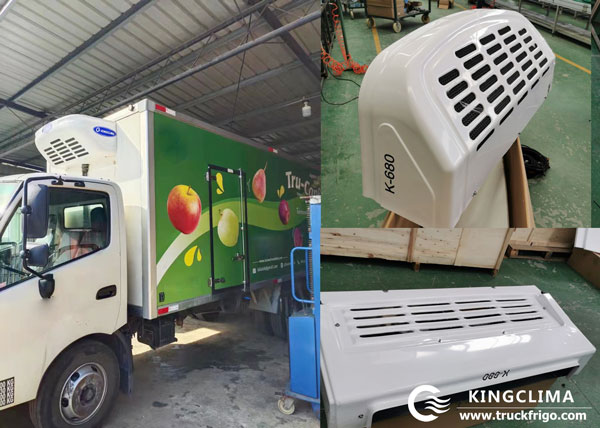 As for end-users, if you don't have ability to install the
transport refrigeration
, you can find a local installers for help, which have to let the professional team do this. Our price is competitive so just find a local team to install it! It still have a good price than you buy in local market sometimes.
For the Mexico market, we don't have any dealers now to resell our
transport refrigeration
, which is a great chance for related partners who want to join us and represent our brands to sell in local market. We can supply all kinds of product line of
transport refrigeration
and box for cold chain business. Besides that, our price is more competitive compared with some famous brands such as Thermo King and Carrier. Also compared with Hwasung thermo brands, our price and quality is more competitive. We welcome dealers join us !