Customized Refrigerated Box for Truck for Saudi Arabia
Our client Allaah took over a project to customize the door for 300
reefer box for trucks
, the door size is 300 * 400 (internal dimension). The thickness of our foam sheets is 5 cm. The door must be with frame and hinges .
Our company customizes this
refrigerated truck box
for his to do in this project, the inner and outer skins are sprayed with steel plate, and the materials of FRP and stainless steel can also be customized. The car body is made of PU polyurethane integrated injection foaming, and the thickness of the insulation layer is 75mm, which has a good insulation effect.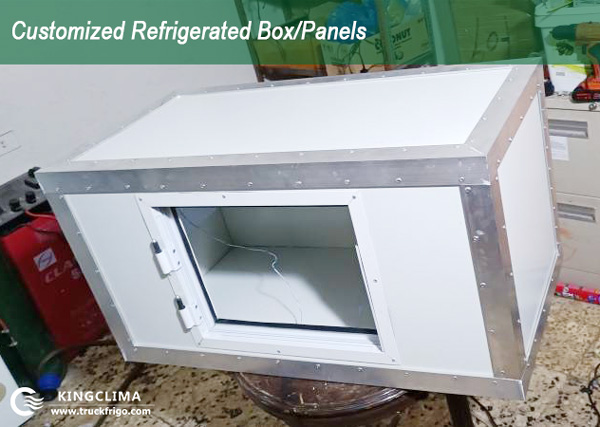 For the
reefer box for truck
parts, it is high-quality aluminum alloy edging around the box, high-quality stainless steel door locks, stainless steel hinges, aluminum alloy edging.
In order to help him to get a suitable
refrigerated box for truck
, we have to confirmed with him the following information.
First we asked him to measure a series of data, as shown below:

After we confirmed these data, we made a drawing for the customer, we must ensure that the customer's door is completely suitable for the customer's refrigerator before producing the
refrigerated truck box
door, and the customer confirms that it can be used after checking the drawing.
Cooperate with KingClima
KingClima can be supply the customized refrigerated box for trucks,vans, pickups,tricycles etc, and we also provide all kinds of
transport refrigeration units
for these vehicles solutions, we provide customers with one-stop cold chain logistics equipment solutions. Please contact us directly if you have any requirement of these.