Ice Cream Refrigerated Trucks Solution
For some of high end ice cream it will need -30℃ temperature controlled to deliver. For most of ordinary
truck refrigeration units
, the temperature can be lowest at -20℃, which cannot meet the ice cream's temperature requirement. So how to convert your trucks into a professional ice cream trucks? Here we use
eutectic cold tube refrigeration units for trucks
to make temperature -30℃, which is very popular in European market.
Eutectic cold tube and refrigeration system
can be used as a professional truck refrigeration units for ice cream, that is especially designed for deep frozen cargoes such as ice cream delivery.
Solution of -40℃ Temperature Controlled Delivery for Refrigerated Trucks
To have a better thermal insulation properties, a specialized refrigerated truck box is necessary to keep the temperature lowest.
Eutectic Cold Tube System
The ordinary truck refrigeration units cannot make the temperature to -30℃, it needs a specialized equipment (eutectic cold tube system). the eutectic cold tube system included into two parts: eutectic cold tube and condenser.
A: for eutectic cold tube can be customized according to your truck box size.
B: According to cooling capacity, the condenser model we have KT300/400, which use German Bitzer (3 hp) Power supply is 3-phase 380V.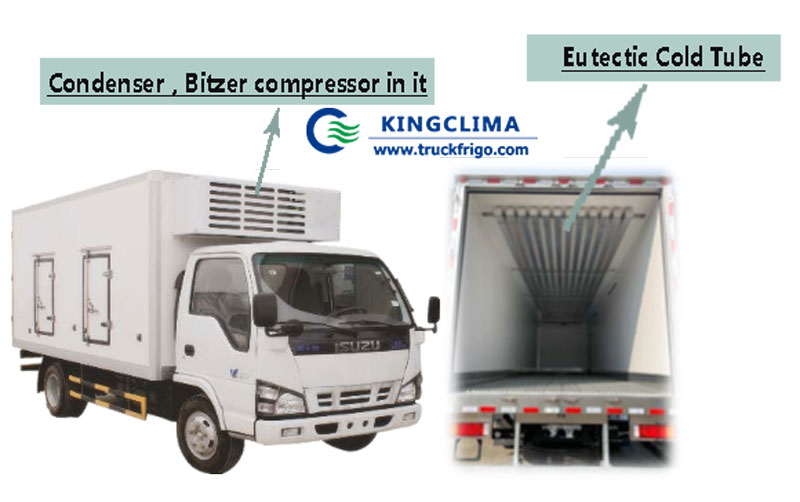 Tips: if you already have other brands of condenser, you can also choose the eutectic cold separately.
With the eutectic cold tube system, the temperature can be reached to -40℃ for the deep frozen cargoes for example ice cream transport.