V-200 Van Refrigeration Kits Install on Mitsubishi L300 Cargo Vans Solution
Engine Drive Refrigeration Units V-200 Cargo Van Refrigeration Unit Used For Mitsubishi L300
Our customer Monny has 30 mitsubishi L300 cargo vans and want to convert them into a refrigerated cargo vans for frozen food delivery. He ask us about the vehicle body and suitable
van reefer unit
that are used for the L300 to pull frozen fish.
The solution we provide to our customers is that a 2x1.7x1 size vehicle body and equipped with a V-200
cargo van refrigeration unit
.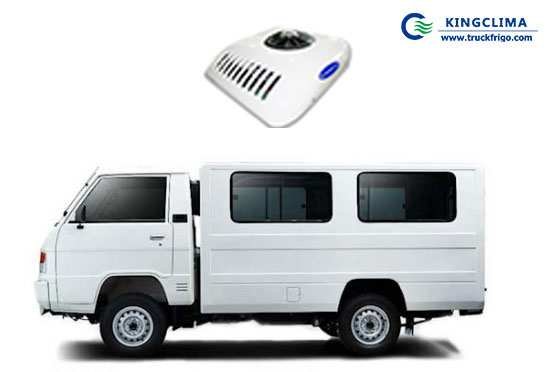 Solution of Refrigerated Box that KingClima Provide
The inner and outer skins are sprayed with steel plate, and the materials of FRP and stainless steel can also be customized. The car body is made of PU polyurethane integrated injection foaming, and the thickness of the insulation layer is 75mm, which has a good insulation effect.
Box parts:
high-quality aluminum alloy edging around the box, high-quality stainless steel door locks, stainless steel hinges, aluminum alloy edging.
Frame:
The five-bend frame is more sturdy, and the bumper is thicker, with high and low speed, afterburner gear, and high-power differential motor. The car body is small and can be shuttled in alleys.
V-200 van freezer units apply to all kinds of small and medium-sized refrigerated cargo vans with 5 -12m³ van box. The small
van reefer units
are roof top mounted units for cargo vans to transport freezer goods. If you need van chiller unit for fresh cargoes, please see our V-200C van chiller unit.
Now, we are looking forward our customers installation feedback of our van refrigeration kits on the mitsubishi L300 cargo vans.
KingClima is professional in
transport refrigeration units
and refrigerated cold box, we can supply one-stop service for your cold chain logistics. If you need cooling solution, welcome contact us.