Keeping it Cool in the British Isles: KingClima's Van Refrigeration Unit
The United Kingdom, known for its unpredictable weather and beautiful landscapes, has always been a hub of activity. From delivering farm-fresh produce to transporting medical supplies, reliable refrigeration is crucial for businesses across the nation. This is the story of how a customer from the UK found a perfect cooling solution with KingClima's Van Refrigeration Unit.
A British Love for Delivery
The United Kingdom's busy streets are filled with vehicles on the move, delivering essential goods. From the bustling heart of London to the remote villages in the Scottish Highlands, timely and safe transportation is vital. This requires reliable refrigeration solutions that can adapt to the ever-changing British weather.
KingClima's Van Refrigeration Unit is a versatile and dependable solution for transportation businesses. Designed to maintain the desired temperature, it ensures goods arrive at their destination in perfect condition. It's the go-to choice for businesses across the UK that require efficient cooling solutions.
The UK Customer's Choice
Our UK customer, a seasoned delivery business owner, was looking for a refrigeration unit that would meet their unique needs. They chose KingClima for several compelling reasons: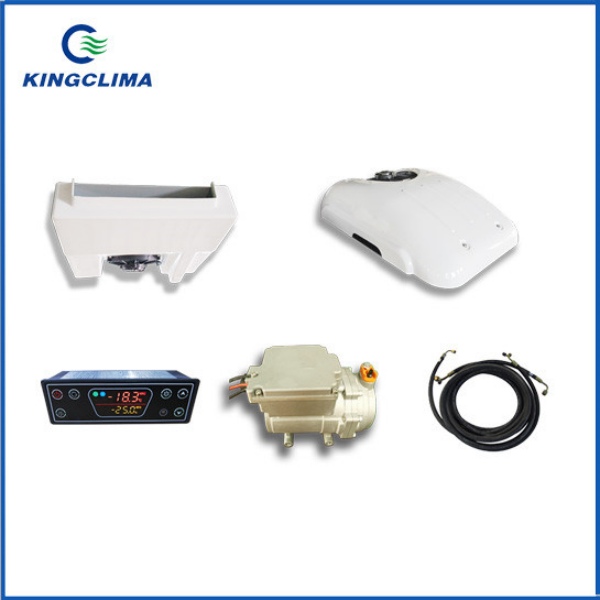 Versatility:
KingClima's Van Refrigeration Unit
can maintain a wide range of temperatures, making it ideal for transporting everything from fresh produce to pharmaceuticals.
Energy Efficiency: With a focus on energy efficiency, the unit helps reduce fuel consumption and operating costs, making it an environmentally friendly choice.
Consistency: Regardless of the British weather – be it a sweltering summer day or a chilly winter morning – the unit maintains the desired temperature with precision.
Remote Monitoring: The customer appreciated the remote monitoring and control feature, allowing them to keep track of the unit's performance and make real-time adjustments.
Easy Maintenance: Routine maintenance is hassle-free, ensuring minimal downtime for their delivery operations.

Keeping Goods Fresh Across the Nation
With
KingClima's Van Refrigeration Unit
, our UK customer experienced a significant enhancement in their delivery services. From transporting fresh fruits from Cornwall to London's bustling markets to delivering life-saving medicines in remote Scottish isles, their business thrived. The refrigeration unit ensured that goods remained fresh, irrespective of the season.
This project is a testament to the vital role KingClima's Van Refrigeration Unit plays in the transportation and logistics industry across the United Kingdom. The UK customer's story highlights the importance of reliable cooling solutions in ensuring that goods, from farm to table, arrive in pristine condition. KingClima's refrigeration unit has become an integral part of their operation, enabling them to keep it cool in the ever-changing British Isles. In the heart of the United Kingdom, from England's green fields to Scotland's remote islands,
KingClima's Van Refrigeration Unit
ensures that business stays fresh.