B-200 Electric Van Refrigeration Unit Electric Transport Refrigeration Units
New Trend of Electric Vans Need More Electric Van Refrigeration Unit
Electric fridge van is best choose for reducing your carbon footprint . Unlike a hybrid, an electric vehicle runs without any diesel or petrol, greatly reducing the emissions you produce.
Electric refrigerated van also have lower running costs and reduced taxes for both businesses and private use. There are also grants and scrap page schemes available to people looking to make the change to an electric vehicle .
KINGCLIMA delighted to announce we've developed a unique electric refrigerated van conversion with our
electric van reefer unit
for the new electric Renault Kangoo, Citroen Berlingo, and Nissan e-NV200. Our systems are very user-friendly and improved refrigeration performance guarantees a longer working day.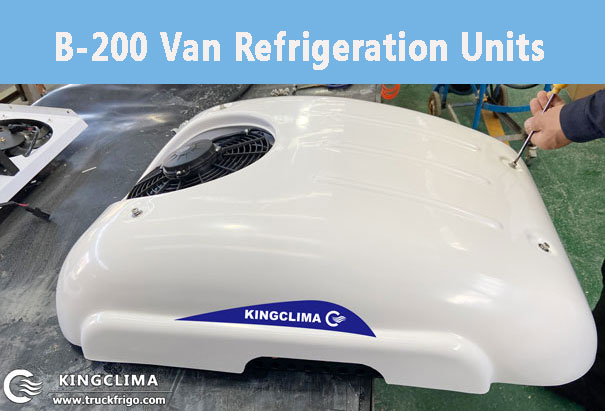 Our B-200
fully-electric van refrigeration unit
for small- to medium-sized vans and trucks with 3-5cubic meters cargo box . It is ideal for electric and engine-powered trucks.
Full Electric & Zero Emission Reefer Units
,it is made for Sustainable Urban Delivery. B-200 battery driven van reefer units installed HIGHLY 145 electric compressor with bigger Displacement . It is integrated eleltric freezer unit which its electric compressor is installed into the condenser and it is very easy to install .We can do DC12V ,DC24V or DC48V which can be connected into your electric van or fuel engine van both ok .
B-200
van reefer unit
has Manual defrosting and electric defrosting function, can keep fresh vegetables, milk, cream, fruit, etc. or frozen beef, chicken, seafood, etc. This motor unit can adjust the appropriate temperature from -20 degrees Celsius to +15 degrees Celsius according to the needs of different foods.
KINGCLIMA has the earned expertise to offer you the highest quality of full electric transport refrigeration units. From in-house design to hand-crafted installation, you can count on guaranteed durability and safety for your business.