Mobile Freezer Unit Export to French Market
In the current era of energy shortage and increasingly serious environmental problems, the market has higher requirements for the products of
transport refrigeration units
, which are more environmentally friendly, more efficient and more stable. These characteristics are the direction of constant efforts of KINGCLIMA. And KingClima new updated product of
zero-emission refrigerated trailer
will meet this situation demand.
In early September, we received the demand from a French factory specializing in the production of all kinds of trailer products. They need us to provide a trailer unit for their
mobile freezer trailers
for fresh-keeping. The length of trailer box is 12FT, and the internal space is 13m³(459ft³),the temperature demand is 0 ℃~10 ℃.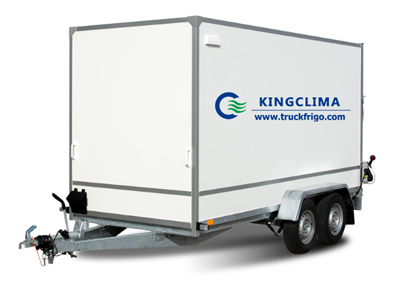 In fact, we have designed a
mobile freezer unit
for trailers very early, but it is mainly used for refrigeration. For refrigeration demand, our technical team quickly unified improvement plans and ideas after full online communication.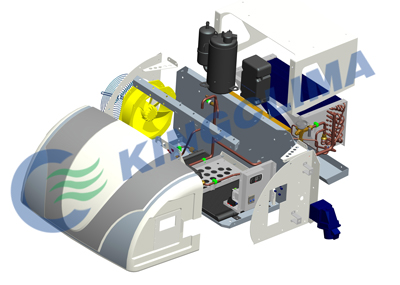 In terms of hardware configuration, we use aluminum parallel flow as the evaporation and condensation core. Compared with the traditional copper tube fin core, the parallel flow has smaller air resistance, more compact structure, space saving and higher heat transfer efficiency. The shell is made of glass fiber reinforced plastic(FRP), which has good thermal performance, better corrosion resistance and higher material strength. In order to prolong the service life, we have made an anti ultraviolet coating. We have updated and optimized the system structure to make it more efficient and reduce energy consumption.
In terms of software, we have adopted the Italian CAREL controller and equipped with the Bluetooth control function, that is, we can control the temperature inside the box and monitor the temperature change through only one mobile phone. This will greatly facilitate people's use.
KINGCLIM has been committed to providing better and more reliable products for the global cold chain transportation industry. We hope to become the leader and pioneer of this industry one day.And we believe that this day will come soon.
As for the various demands to the
mobile freezer trailer unit
in the market, most of factories may not meet different demands. As for KingClima, we are now supplying AC 110V to AC 240V voltage powered
mobile freezer units
and according to market demands, we have R134a refrigerant, R404a refrigerant and R448a refrigerant that for different policy. So we are looking for dealers if you have interest to cooperate with us!