Mobile Freezer Trailer Solution for America Customer
"I have a walk in freezer that has OD measurements of 8'-0"x11'-0"x9'-6" high. The walls are 5" thick and there is 1 passage door. I want to put it on a trailer as a mobile cooler or freezer. What type of refrigeration unit would you have?"



This is the email I received from Michael from the United States. He needs a refrigeration unit for his
mobile freezer trailer
. As he described, the size of the trailer he owns is 8 '- 0 "x11' - 0" x9 '- 6 ", which is 844.6ft³, To convert, it is 24m³,this is the overall volume of the box. The actual usable volume is about 23m³ about.
To be honest, there is no suitable model for our regular
vehicle refrigeration units
on sale. Because it does not need the on-board part, we have modified our existing unit to remove the on-board part, so that it can be directly connected to the AC110V AC power for use.
After full communication with Michael, we spent a week to finalize the final product plan. As shown in the figure below, this
vehicle refrigeration units
is integrated, which means that many unnecessary steps will be reduced during installation. At the same time, we have equipped three brushless fans for this unit, which makes the noise less and the operation more efficient. The product uses R404a as refrigerant, which has a stronger refrigeration effect.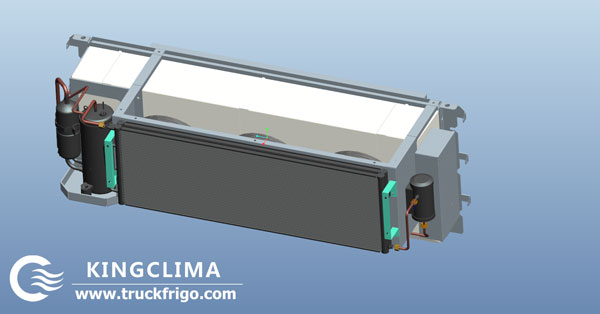 At the same time, in order to facilitate Michael's daily use and maintenance, at the beginning of design, we made two-stage treatment for this unit. That is, the overall casing of the
mobile freezer trailer unit
is divided into two parts, as shown in the figure below. The condenser part is protected separately by a FRP shell, while the compressor and other parts will be protected by a separate FRP shell. The biggest advantage of this is that when there is a problem with the system, the maintenance personnel do not need to remove the entire housing for maintenance, they only need to remove the corresponding housing for maintenance. It greatly facilitates the daily maintenance and repair of the unit.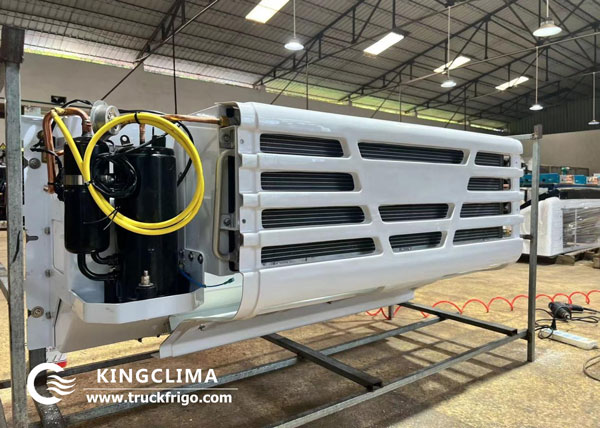 At present, this product has been produced and assembled, but it is a customized product, so it can only be officially delivered to Michael after all startup tests are completed in the laboratory. I believe Michael will love it, and I am looking forward to Michael receiving this product earlier.
Cooperation With KingClima
For the
small refrigerated cargo trailers
, it is very popular in America market. We are eager to open this market to bring our high quality of
vehicle refrigeration system
that not only used for
mobile freezer trailer
but also for other kinds of refrigerated vehicles. Here for the K series of
mobile freezer trailer units
that can meet different kinds of market demand for example for AC 110V powered to AC 220V powered or R 448a refrigerant or R 134a and R 404a refrigerant models. For the appearance we also update it to look very beautiful and outstanding than others. So if you have interest to cooperate with us in this
small refrigerated cargo trailer units
, there is still a big chance! Welcome contact us!