K-660 Vehicle Refrigeration Unit Export to Thailand
The large
vehicle refrigeration unit
is very popular in Thailand, and especially our K-660 truck refrigeration is very suitable for Thailand market trucks. Recently our customer from Thailand named Mr. Kongal ordered one set of K-660 truck refrigeration for use.
We sold many sets of K-660 truck refrigeration to Thailand market and this model really get a good market feedback. It is a very working stable and reliable
truck refrigeration
that has been in market for over 5 years, which is suitable for large truck refrigerated bodies. Besides that, the K-660 truck refrigeration cooling very fast! In Thailand, the ambient temperature is very hot all seasons and it really needs a large cooling capacity and fast cooling speed vehicle refrigeration unit to keep the perishable cargoes safe. The K-660 model of truck refrigeration meet all this solution! It used for transport fresh fruits and beverage from one city to another city. The
K-660 truck refrigeration
meet all the demands and perfectly for our customer's transportation use.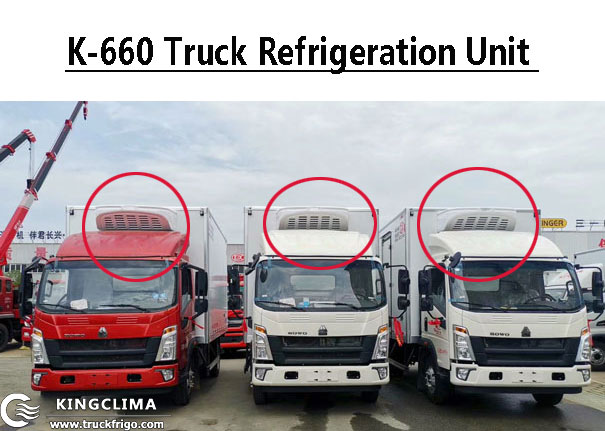 Why Choose KingClima as Your Vehicle Refrigeration Unit Supplier?
Most of our customers choose us not only because of our high standard service, but also our high quality products and full completed product range on transport refrigeration unit field. We can supply the whole set of product line of truck refrigeration units, van refrigeration units and tricycle refrigeration units, motorcycle refrigeration units.
Also we supply all kinds of
refrigerated cold box for
different perishable cargoes transport solution. Such as our
portable refrigerated cold box
is very very hot sale and as for now, only us in China produce this kind of box that compared with Thermo King box, we have a very competitive price.
In a word, as for KingClima, we supply all the
transport refrigeration
product lines for your business with our best price! That is why our customers choose us again and again.
Distributors are Invited
To conclusion above reason, so many customers choose us and want to be our partners to resell our products in local areas, and that is the main way that we cooperate with our partners as a distributors. So if you also have interest in this field, we welcome you to join us! Please feel free contact us for more!