Kingclima is a high-tech enterprise integrating R&D, production, sales, installation and after-sales service of different kinds of solution on
transport refrigeration unit
. The technology comes from advanced technologies from Japan, Europe and other countries. The company specializes in advanced energy storage technology, process refrigeration, cold storage, energy saving, etc.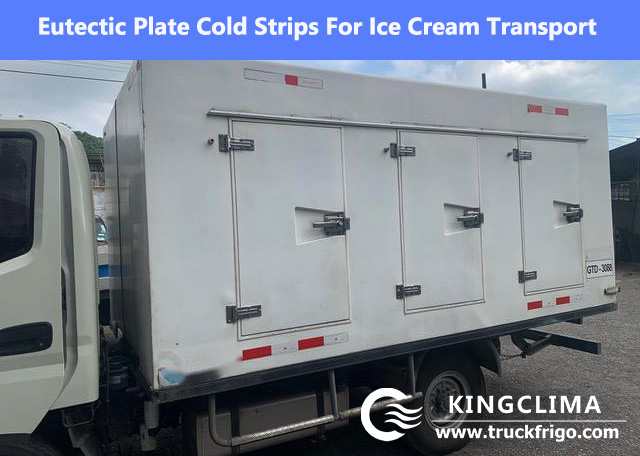 The R&D and industrialization of cutting-edge technologies leads the industry in market share. The company has been closely cooperating with scientific research institutions in the same industry at home and abroad, and has researched and developed a series of high-tech energy storage products and Energy-saving technology can provide users with comprehensive energy storage, environmental protection, and industry-leading energy-saving solutions.
Recently we got a requirement from a Ecuador customer and they want to replace of their Italian brand Dorin
eutectic plate cold strips
for ice cream transport. We helped him to get a very perfect solution on his ice cream
truck refrigeration unit
business.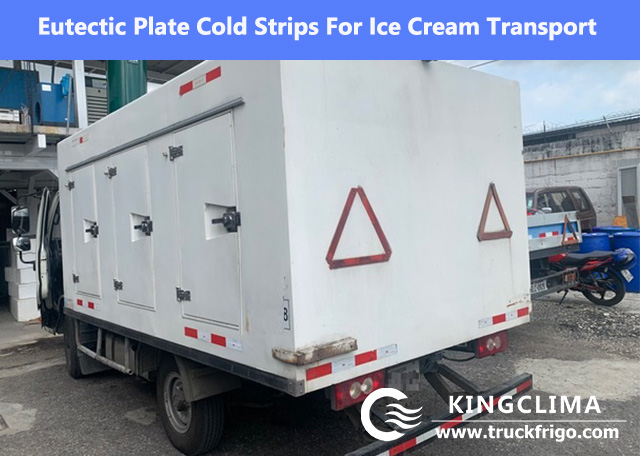 The customer used the Italian brand Dorin eutectic plate before (Refrigerant R507A 8kg,Danfoss Regulator valve KVL22 )
Danfoss Expansion valve TS205B orifice , He has many Cofi trucks made in Italy and 3 of those are with the eutectic plates broken and he wants a quotation of eutectic tubes for those broken trucks, so he purchased our eutectic cold strip instead.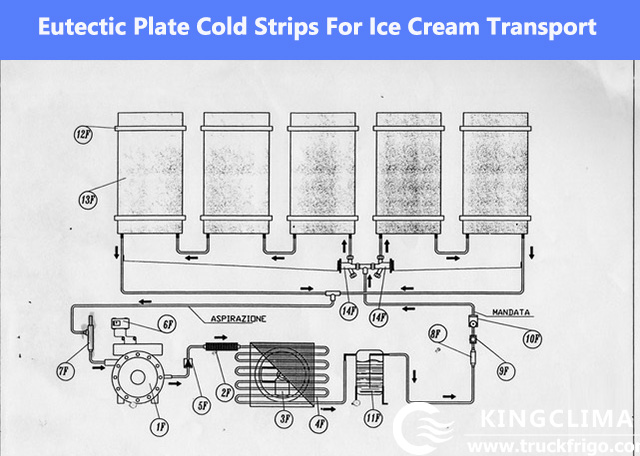 According to the customer's
refrigerated truck box
size 330 x 190 x 130h cm, 8 m3, the temperature requirements are -26°C and -33°C, specially for storing ice cream.
Our solution is as following with cold tubes unit configuration:
a):Cooler model: KC-300
b): Compressor model: German Bitzer (3 hp) Power supply is 3-phase 380V
C): Length of cold tubes: 12 cold tubes in total: (100*100MM)
d): The maximum power consumption of the German Bitzer compressor is 4kw
e): The lowest working temperature is minus -40°
F): With temperature controller, automatic shutdown device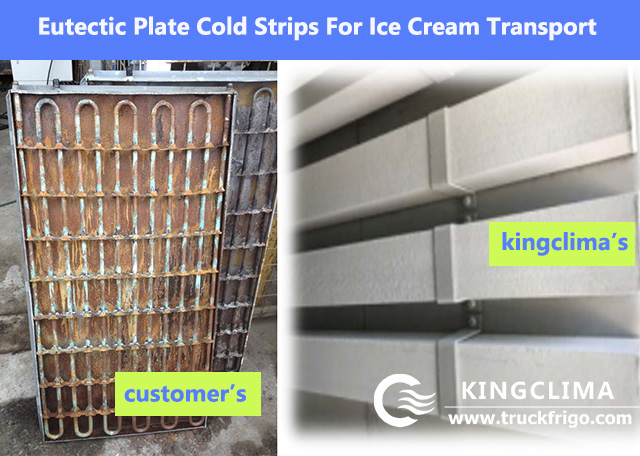 Our single package size is:
Eutectic plate cold strip
: about 3 meters X60 cm width and height 80 cm (3.1*0.7*0.9)
Host condenser: 1.8 meters wide, about 60 centimeters wide and 80 centimeters wide (1.9*0.7*0.9)
After get this solution, our customer is very sanctified with our KingClima teams service and professional. Now all the
eutectic cold tubes
are packed well and have already been sent out to South America. We are looking forward to the feedback!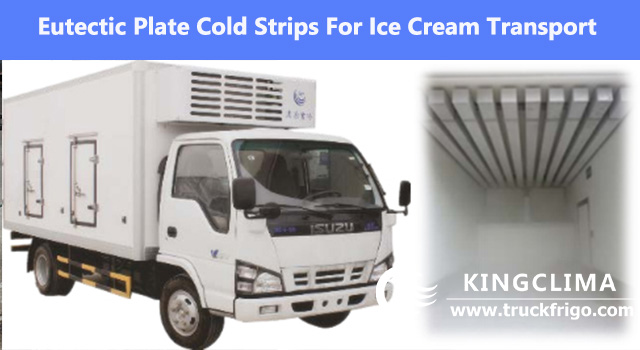 The
eutectic cold tubes
of KINGCLIMA is made of aluminum alloy. This material will not rust even if there is water vapor inside the compartment. It is filled with mixed eutectic solution, non-corrosive and environmentally friendly refrigerant. It is specially suitable for ice cream factories with ultra-low temperature -25 degrees Celsius to -40 degrees Celsius, specializing in transporting various high-grade ice creams, etc.
Also, for the price, it is very competitive we can supply compared with the market. We are manufacturer and we are looking to have a cooperation with some of ice cream or distributors in local market! No matter it, we can also supply all kinds of
box truck refrigeration unit
for different trucks, so please feel free contact us if you have any interest!