Standby Truck Refrigeration Units Solution
For the
food truck refrigeration system
is very important to keep safe. The standby system is a double security for the temperature controlled cargoes delivery. When refrigerated trucks stop and need it cooling all the time, then to use the standby system will help you to realize it. The electric standby system need to connect with outside power AC220V or AC110V voltage for working.
Solution 1: Integrated Electric Standby Truck Refrigeration Units
The electric compressor is built-in condenser. Customers don't need to find a space to install electric standby system, it is very easy to install. Connecting with outside power AC220V or AC110V voltage.
Refrigeration Models: K460S/560S/660S/680S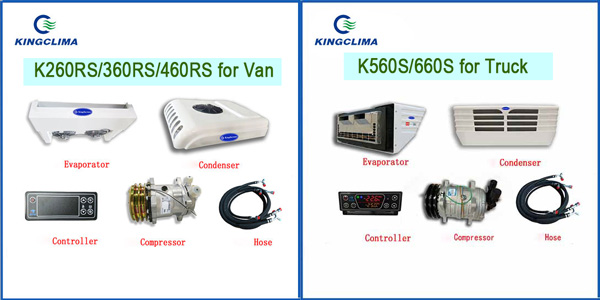 Solution 2: Split Electric Standby Truck Refrigeration Units
The electric compressor is separated in a standby box to install under the chassis.
The standby box can be equipped with any of truck refrigeration units brands. Please refer to our truck refrigeration systems, you can decide whether choose a standby box.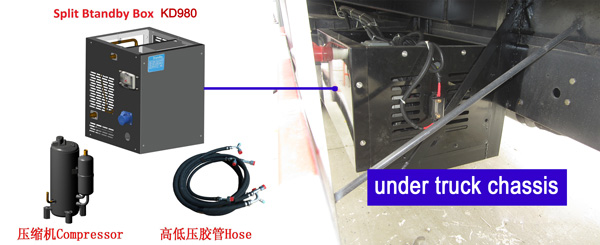 Cooperation With KingClima
Except the standby
freezer units for trucks
, we also have
small refrigeration units for trucks
. And we also have some special cooling solutions for
cargo vans refrigeration units
. Our competitive products will make your business more efficient and winning.
KingClima as the China leading manufacturer and supplier of
transport refrigeration units
are very professional in this field. Except the standby powered truck van refrigeration units, we also supply other special cooling solutions from refrigeration units to refrigerated box.
Our weakness is that we cannot supply the after sales service to local customers now, so we welcome distributors who has the ability to supply after sales service (installation and repair service) to resell our products in your local market. We also have so many end-users that want to buy our products but because of the short of supplying installation. To encourage and expand our business, now we have very good policy to our partners! If you have interest in this business, please feel free contact us!