Solution for Ice Cream Transportation -40℃ with Eutectic Cold Tube System
Solutions for High-end Ice Cream Temperature Controlled Delivery
For the original
truck refrigeration units
or
van refrigeration units
, the temperature is very hard to lower to -40℃, usually -25℃ is ultimate. But for some of high-end ice cream, the temperature may need -40℃ to keep the ice cream safe. How to transport it ? Here is our solution for it.


Eutectic Cold Tube System

The Eutectic Cold Tube system is applied for ice cream delivery, temperature can be in -40℃ for very deep frozen cargoes delivery.

A Standard cold tube system consists of a fully equipped condensing unit which including compressor (we use Bitzer compressor), air cooled condenser coil with fans, electric control box and all necessary components. The eutectic evaporator ( cold tube ) is complete with all necessary parts, expansion valves and manifolds. The tube is extruded aluminum containing a non-toxic eutectic solution.




Part 1: Eutectic Cold Tube

a) : compressor model: German Bizter (4P) power supply is 3-phase 380V

b) : Eutectic Cold Tube length: 12 pcs Eutectic Cold Tube (2700*100*100MM)

c) : the maximum power consumption of German BIZTER compressor is 4kw

d) : the minimum operating temperature is - 40 ° C

e) : with temperature controller and automatic shutdown device

CHARGING TIME: About 6 ~ 8 Hours

REDRIGERATANT: R404a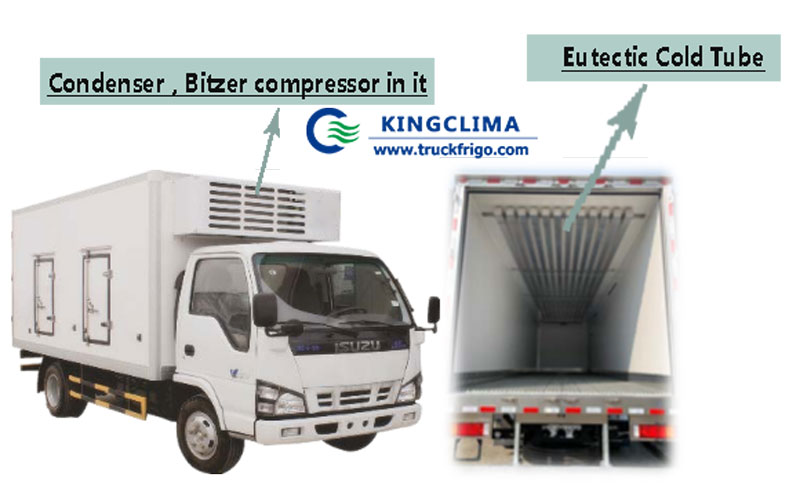 Part 2: Refrigerated truck body insulated box

a): External dimension of
Refrigerated truck box
: 3.05x1 83x2. 1m;
b): left two side doors and a pair of rear door.
c): thickness requirements of insulation sandwich panels: the thickness of floor, top panels and front panels is side panels, and the thickness of door panels is 100mm.
The outer skin is made of glass fiber reinforced plastic (FRP) which is UV resistant and white gel coat. The inner panel is made of PP thermoplastic plate (food grade material), and the middle PU foam density is not less than 43KG/ cubic meter and the insulation panels thickness is 100-110mm with better function .

We are China Top 1 manufacturer of refrigerated truck box, truck refrigeration units, van refrigeration units. and we can give very competitive price! Please feel free contact us if you need any of refrigerated box solution.

We also welcome distributors to join us!