KingClima Van Refrigeration Unit Installation for a New Zealand Client
In the enchanting landscapes of New Zealand, where pristine nature and urban convenience coexist harmoniously, a client sought a solution to maintain the freshness of their perishable goods during transportation. With this challenge at hand, we embarked on a project to equip our New Zealand client with a cutting-edge refrigeration system for their delivery vans. Our solution, the KingClima Van Refrigeration Unit, promised to be a game-changer in their logistics operations.
Project Overview
Client: A leading distribution company based in New Zealand.
Project Objective:
To install the KingClima Van Refrigeration Unit in the client's delivery vans to ensure the safe and efficient transportation of temperature-sensitive goods.
Location:
Multiple locations across New Zealand.
Project Implementation
The implementation of the
KingClima Van Refrigeration Unit
involved a series of steps to ensure its seamless integration and optimum performance:
Product Selection:
Our team thoroughly assessed the client's specific requirements and opted for the KingClima Van Refrigeration Unit, renowned for its energy efficiency and reliability.
Customization:
Each van had its own unique specifications, and our team customized the refrigeration unit to fit seamlessly into each one.
Installation:
A skilled team of technicians was deployed to carry out the installations at various locations across New Zealand, adhering to strict quality control standards.
Testing and Calibration:
After installation, each unit underwent rigorous testing to ensure it met the required temperature standards for the safe transportation of perishable goods.
Training:
We provided comprehensive training to the client's drivers and maintenance staff to ensure they could operate and maintain the refrigeration units effectively.
Ongoing Support:
We offered a comprehensive support package that included routine maintenance, emergency service, and 24/7 customer support.
Challenges and Solutions
Diverse Fleet:
The client had a diverse fleet of delivery vans, each with unique specifications. Customization was key to ensuring the refrigeration units fit seamlessly. Our solution involved creating a template for customization, which allowed us to streamline the process and reduce installation time.
Regulatory Compliance:
New Zealand has stringent regulations governing the transportation of perishable goods. Our solution involved ensuring that each unit met or exceeded these regulations, offering our client a competitive edge in the market.
Results and Benefits
The installation of
KingClima Van Refrigeration Units
provided our client with a range of tangible benefits: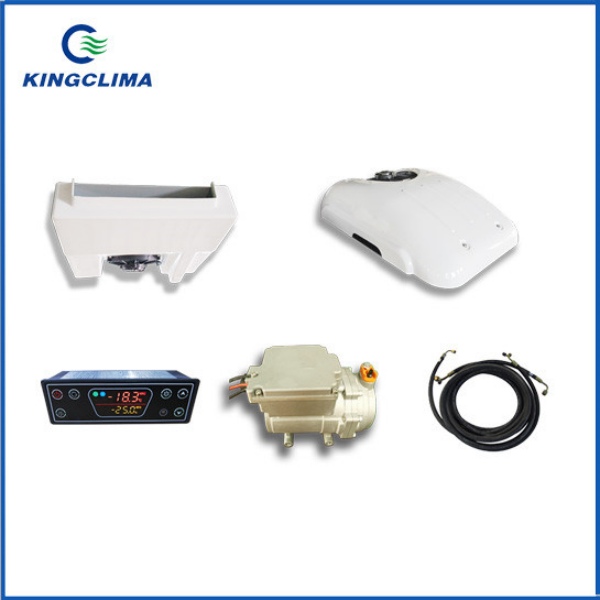 Enhanced Efficiency:
The client experienced a remarkable improvement in the efficiency of their delivery operations. The ability to maintain a consistent temperature throughout the journey reduced product spoilage and losses.
Cost Savings:
The
KingClima van refrigeration units
were not only energy-efficient but also required minimal maintenance. This translated into significant cost savings for the client.
Market Competitiveness:
With a reliable and energy-efficient refrigeration system, our client was able to gain a competitive edge in the market, attracting more clients looking for a dependable logistics partner.
Compliance and Safety:
The refrigeration units ensured that the client's operations complied with stringent food safety regulations. This not only safeguarded their reputation but also allowed them to access more premium clients.
Customer Satisfaction:
The improved quality of delivered products led to increased customer satisfaction, ultimately resulting in higher customer retention rates.
The installation of the
KingClima Van Refrigeration Units
in our client's delivery vans has been a resounding success. This project case study showcases the pivotal role that innovative and reliable refrigeration solutions can play in enhancing the efficiency and competitiveness of a logistics company.