Ice Cream Transportation Solutions by Electric Tricycle Refrigeration Units
This
Electric T
ricycle
Refrigeration Units
solution helps our customers solve the problem of transporting frozen food in dry truck, which is favored by the cold chain logistics
industry.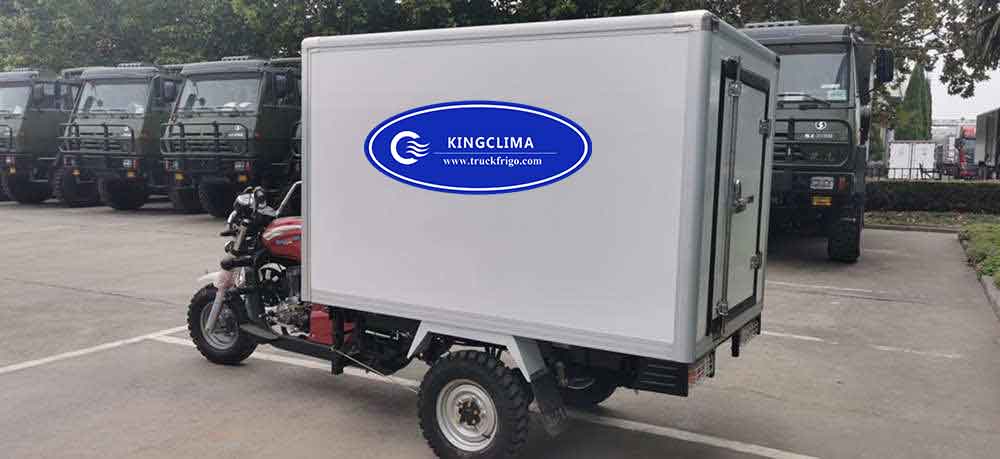 As we know, ice cream needs to be frozen in a refrigeration cold room box from - 20 ℃ to - 25 ℃. But if your ice cream is transported in a regular dry truck, how can you ensure that the ice cream is frozen during the transport period?
Generally, the frozen food is stored into small box 1.6 * 1.2 * 1.2m and then loading into dry truck body. Our company has given the Ice Cream Transportation Solution by
Electric Tricycle Refrigeration Units
to solve this problem.
First, we made a refrigerated box with excellent thermal insulation performance. The specific structure and material are as follows
1) Structure: fiberglass+PU+fiberglass.
2) The Floor is 100mm thick sandwitch panel; other panels are 80mm thick.
3) The Insulation Layer is a kind of new type foam - with virtually zero thermal condictivity. Density of the PU is all 42kg/m3, which meets the national AAA standard.
4) Both inside and outside the sandwitch panel is coated with Handmade FPR, which is 2mm thick.
5) The Hardwares are 304 stainless steel; Aluminum Profile and Stainless Wrap Angle.
6) Four universal wheels are installed at the bottom of the box, and an iron frame is added at the bottom, which is convenient for forklift unloading and box moving anytime and anywhere
7)The refrigerated truck body is tight and solid; assembled by very high mechanical strength; smooth and nice appearance, anti-corrosion

Secondly, we have installed
DC12V electric tricycle refrigeration units
into this box, the inside temperature can reach - 20 ℃ to - 25 ℃. When the vehicle is on the way ,it works through the battery or an independent battery (above 120ah, 12V); Besides,we also equipped with a standby system, so when the vehilce stops, the unit can be connected to the external power supply AC230V to continue to work ,meanwhile to ensure ice cream is in good frozen condition.
This electric tricycle refrigeration units solution helps our customers solve the problem of transporting frozen food in dry truck, which is favored by the cold chain logistics transportation industry.
If you are interested in or have demand of our transport refrigeration units such as electric tricycle refrigeration units,
truck refrigeration units
,
van refrigeration
and cold room. please contact us. We will provide you with the best quality,better service and the preferential price!`