Fixable And Convenient Solution For Transportation Of Perishable Goods Trucks Or Vans
For perishable goods transporting, we use the
transport refrigeration units
for trucks or vans. Now KingClima produce and design a
mobile cold cube
as an innovative solution for refrigerated vehicles. Let's get to know this product more!
We have 3 models with different size, voltage and cooling capacity for mobile cold cube. You can check the below technical data to know more.
KingClima Portable Refrigerated Container
Model Number
FB058
FB150
FB178
Material:
PE skin +PU foam ,100mm thickness panels
External Dimensions of box
1500*1000*1100mm(59''*43''*39'')
Gross Capacity
750L (198Gal)
Temperature Range
0℃ to 10℃
(32℉ to 50℉)
-18℃ to -22℃
(-0.4℉ to -7.6℉)
-20℃ to -25℃
(-4℉ to -13℉)
Voltage
DC12V/24V/48V/60V
DC48V/60V
Unit Power(W)
320W
650W
820W
Gross Weight(KG)
120KG
Refrigeration Units Model
KC058
KC150
KC178
Cooling capacity:
320W
640W
820W
Applicated box volume
0.5m³-1m³
2m³-5m³
4m³-6m³
Refrigerant Gas(Type)
R134a
R134a
R404a
Refrigerant Gas(Grams)
500-550g
600-650g
600-650g
With ambient temperature +35℃(+95°F)
Usually in our customers, they use the
mobile cold cube box
for cargo vans or pickup trucks. The mobile box size is perfectly suited for all kinds of cargo vans or pickup trucks.
For the voltage and connecting you can use the following solutions:
DC powered 12V/24V/48V/60V voltage mobile cold cube
In this solution, you can connecting the cold cube directly with vehicles battery. Usually it is DC 12V or 24V voltage.
DC powered 48V/60V mobile cold cube
We also make the solution to connecting with an external battery DC 48V or DC60V voltage.
AC powered 110V-240V mobile cold cube
For this solution, it is more suitable for the parking requirement. When your trucks/vans are parking, you can connecting the mobile cold cube with AC powered 110V-240V voltage for cooling.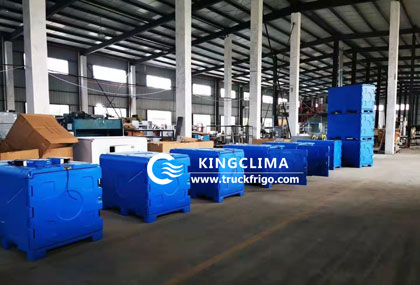 Fixable, mobile, portable, innovative and convenient solution for cargo vans or trucks temperature controlled.
DC powered with integrated battery or battery charger or AC powered voltage for choice.
Powerful cooling to freezing from 0℃ to 10℃(32℉ to 50℉), -18℃ to -22℃(-0.4℉ to -7.6℉) and -20℃ to -25℃ (-4℉ to -13℉)for choice.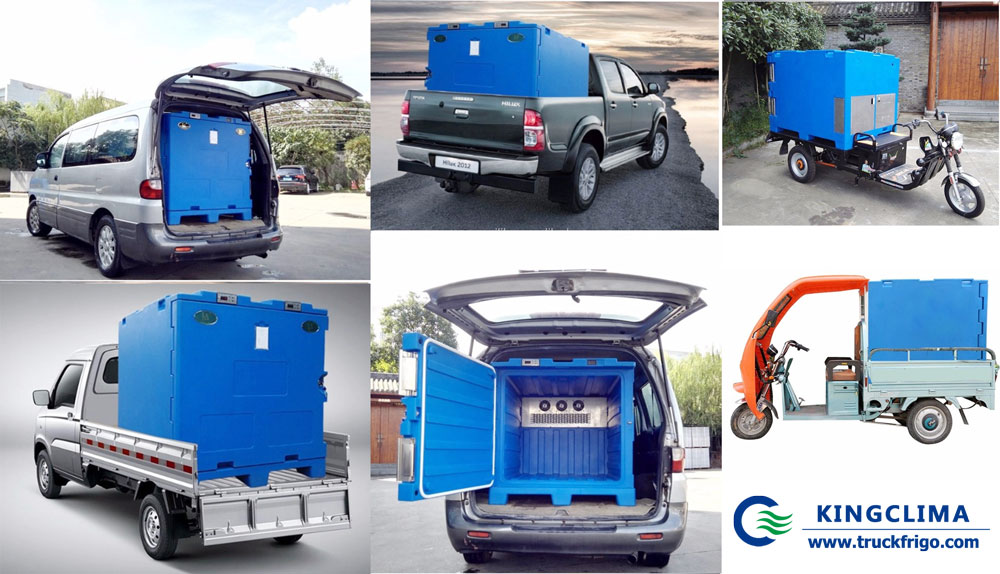 This products are so popular in the market. And we believe that it will have a great potential chance. We have more and more final customers ask for this but they want to buy in local market. We produce it and export it to some of our distributors. But in some other countries we don't have distributors, so we welcome some partners who are in the related business join us! If you have interest, please feel free contact us for more information!