Portable Refrigerated Container Solution for Vans
Portable Solutions to Convert Dry Vehicles into Refrigerated Vehicles
Our
portable refrigerated container
is used for slip in cold box for cargo vans that no need to install, just put it into cargo vans. It is perfectly solve the problem of installation matters.
Kingclima designed this new cold chain with an innovative philosophy for your van ,pickup or truck with dry cargo box : cool or heat the cargo space. In this way we strive for fewer cold storage units and fewer refrigerated vehicles.
Our
portable freezer box
provides active cooling or heating, either powered by the vehicle's DC12V or DC24V battery, or driven through standalone by means of a power lithium battery pack DC48V/60V, charged by AC 230V or AC110V mains power in a warehouse through one charger or converter .
The
portable cold box
can be adjusted from +10℃ to -20˚C . That way, refrigeration, freezing and heating can easily be combined in a single vehicle,it is multi-temperature area in your pickup ,van ,or truck . The unique cool unit is quick and easy to switch in the event of a fault, which guarantees a high level of uptime. The temperature can easily be read and adjusted via the display.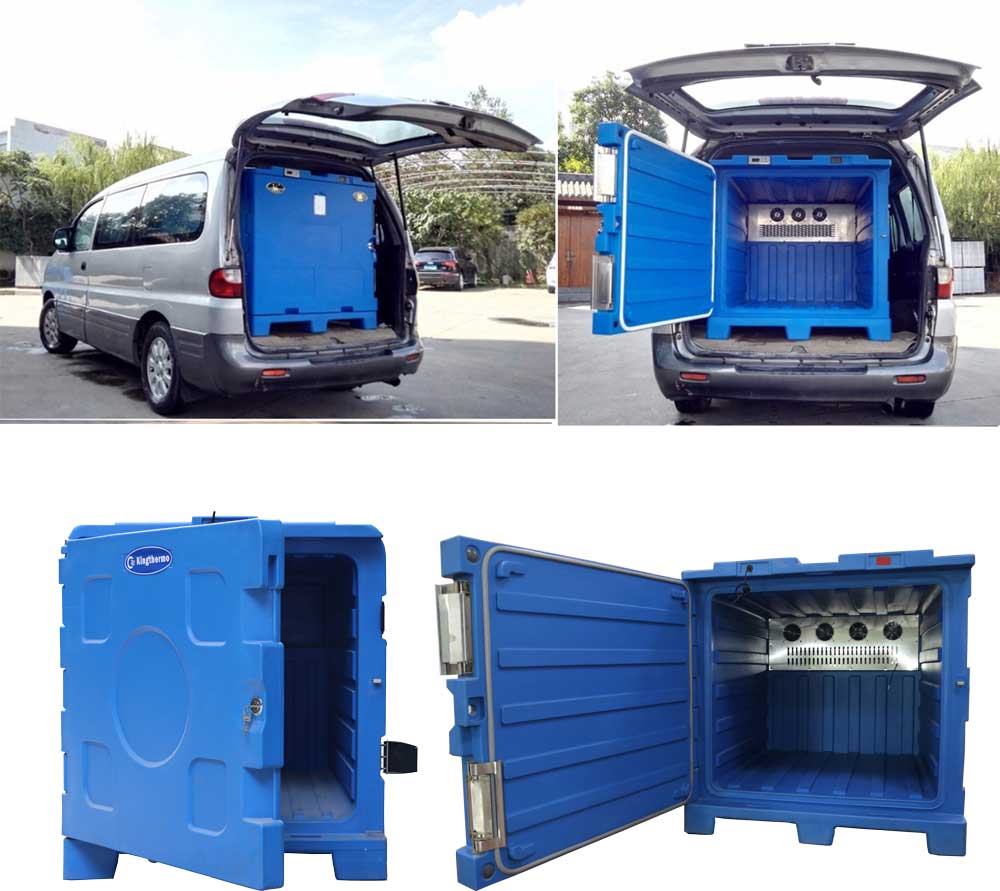 Portable Cold Box makes your cold chain flexible, easy, convenient and portable.
Easy to combine cooled and uncooled distribution;
High level of uptime thanks to an exchangeable cooling unit;
For all applications, at relatively low costs.
Cooling solutions for your commercial vehicle.
To ensure you utilize the maximum capacity of your vehicle's cargo space.
Easiest way to convert your dry cargo trucks or vans into a refrigerated vehicles without installating van refrigeration units or truck refrigeration units.
The solution for transporting cooled and uncooled products in one journey. It likes a portable refrigerator, you can pick up the goods from the side door of your van or pickup .
Now our standard dimensions of this portable cold box is 1.5*1.0*1.1m ,there is the pallet design at the bottom of this freezer box ,you can load or unload it using a forklift. We can offer white and blue color for this mobile cold box .
You can combine refrigerated(fresh or chiller) and frozen products thanks to a (flexible) partition.
As for now, this
portable refrigerated container
is very good price and popular in refrigerated vehicles solutions. it is similar with Thermo King veba box but price is rather than competitive. We are manufacturer and invite distributors to resell this product in local areas. Please feel free contact us if you like this business.