KingClima's Cooling Triumph: Revolutionizing Refrigerated Transport in the UK
In the heart of the United Kingdom's bustling logistics landscape, a British client embarked on a journey of refrigerated transport transformation. This project case study delves into how KingClima's Van Refrigeration Unit has become the cornerstone of their cold chain logistics. Join us on an exploration of innovation, efficiency, and reliability, redefining the way the UK keeps things cool.
Client Profile: UK's Chilled Cargo Champion
Our client, a prominent player in the UK's food and pharmaceutical distribution sector, maintains a diverse fleet of refrigerated vans. Their mission: to ensure the safe and timely delivery of temperature-sensitive goods, ranging from fresh produce to life-saving medications, across the nation.
Challenges: Navigating the Cool Maze
The UK's unique logistics landscape presented several challenges:
Variable Climate: Dealing with the UK's unpredictable weather necessitated a refrigeration solution capable of maintaining precise temperatures year-round.
Emission Regulations: Stringent emission regulations pushed the client to seek eco-friendly refrigeration units to reduce their carbon footprint.
Delivery Precision: Timely delivery of perishable goods was crucial to meeting customer demands and minimizing waste.
Solution: KingClima Van Refrigeration Unit
After a meticulous evaluation process,
KingClima's Van Refrigeration Unit
was chosen for its exceptional attributes:
Temperature Precision: The KingClima unit offered unparalleled temperature control, ensuring goods arrived in pristine condition, regardless of external weather.
Eco-Friendly Design: Equipped with advanced, environmentally conscious technology, the unit complied with emission regulations while minimizing operational costs.
Reliability and Efficiency: Built to withstand the demands of the UK's logistics terrain, the KingClima unit delivered consistent cooling performance while optimizing energy use.
Implementation: The Cool Transition
The implementation phase was executed meticulously:
Fleet Integration: Each refrigerated van was equipped with the
KingClima Van Refrigeration Unit
, seamlessly integrated to maximize efficiency.
Driver Training: Comprehensive training was provided to the drivers to ensure effective operation, unlocking the full potential of the refrigeration units.
Results: Chilled Success in the UK
The adoption of
KingClima's Van Refrigeration Unit
brought forth remarkable results: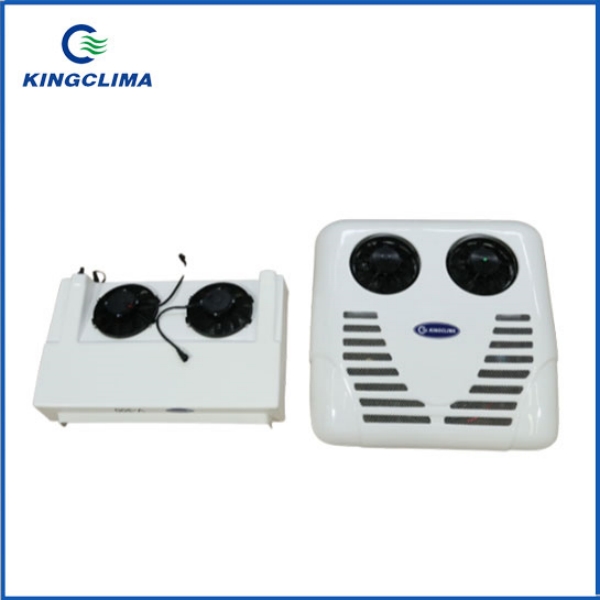 Goods Integrity: Temperature-sensitive goods now consistently reached their destinations in prime condition, enhancing our client's reputation for reliability.
Cost Savings: Reduced fuel consumption translated into substantial cost savings, boosting profitability.
Environmental Responsibility: Lower emissions aligned with the UK's sustainability goals, positioning our client as a responsible industry leader.
This project showcases the pivotal role played by
KingClima's Van Refrigeration Unit
in optimizing refrigerated transport in the United Kingdom. By delivering a customized solution that addresses unique challenges and industry standards, we've not only met but exceeded our client's expectations. As our client continues to expand its operations, they do so with the assurance that their choice of KingClima as their refrigeration solution provider has positioned them for success in the competitive world of refrigerated transportation.